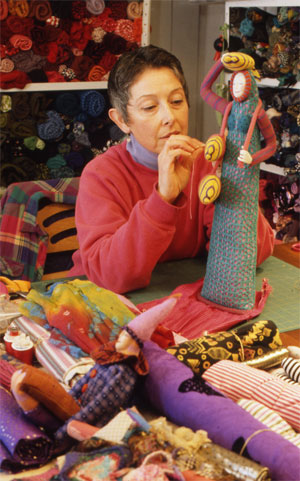 I grew up playing with fabric, thread, and yarn. I learned to sew at an early age and made clothes for dolls, hats and dresses for my mom, ties for my dad, and clothes for myself. Then in high school I taught myself to weave tapestries. As a junior in college, I spent a year in Japan and had the opportunity to study weaving at a kimono factory. I began designing dolls in the early 1980s after spending years both hand-spinning wool and tapestry weaving.
Doll making has allowed me the opportunity to explore my love of fabric. I am continually fascinated by the techniques and fashions that our cultures have worn to express themselves – from medieval and Renaissance clothing to today's experiments in spinning stainless steel into thread. I take my inspirations from nature in my garden, to people walking down the street, and from my own personal experiences.
I make a wide variety of dolls, both production pieces as well as one-of-a-kind dolls which have needle-sculpted faces, often including articulated hands which have all five fingers that are poseable and my own hand-printed and hand-painted fabrics.
I also love fabric collage which not only appears on my dolls' clothing but in collage cards as small abstract studies or special seasonal cards, such as my favorites: hearts for Valentines Day and Christmas trees for holiday cards.
More About Jennifer