Jennifer has created several patterns so you can create your own one-of-a-kind dolls. She also offers classes.
If you wish to buy a pattern, just click the Add to Cart button. PayPal accepts credit cards as well as debits from your checking account. It is not necessary to have an account with PayPal to use their payment services.
There is a postage charge of $2.70 on the Glamour Girl and Santa patterns shipped within the USA; all other patterns have a $1.50 shipping charge. For orders outside the USA, an invoice via PayPal will be sent to you for the postage fee.
---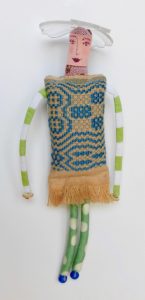 SQUARE BODY LADIES©
This whimsical doll features a square-ish body from specialty fabric (such as a textured handwoven), head and appendages from fabric tubes, and a BIG button for the hat. The face is usually a square of UltraSuede and the feet and hands either buttons or beads. She's silly, comical and cute, and is all of us women over 50 when we begin to feel like we have to work extra hard at keeping our figures intact. Any size from tiny to big is possible.
$10.00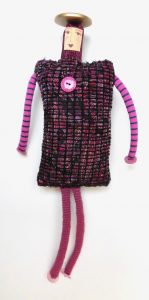 ---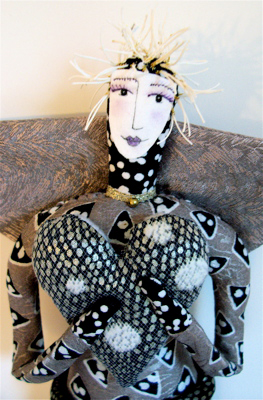 LEOTARD ANGEL©
The tranquil elegance of this 13″ tall doll will entrance you as she clutches a heart to her chest. She's a modern woman with her punk thread hair and swinging fringe skirt. A wall-hung doll, she is easy to make and assemble and awaits your unique choice of fabric combinations.
$10.00
---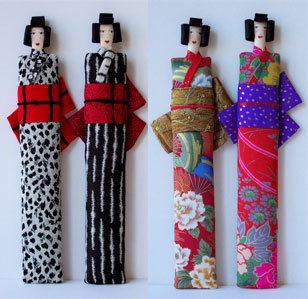 KIMONO LADY©
The 14" tall Kimono Lady© is understated elegance. Her hair of black grosgrain ribbon recreates the headdress of the famous geisha. Her kimono, though, can reflect the seasons or her mood. Her obi belt should be highly complementary to the kimono fabric. Small dark prints for the kimono are subtle and mature. Bright intense pattern ares worn by young women. Her long, thin and flat silhouette makes her ideal for a narrow wall or standing in a duet.
$10.00
---

BAREFOOT SISTERS©
The delightful Barefoot Sister? doll is 12" tall and can be wall-hung or stand up when supported. Her intriguing personality is created by the hand-drawn and lightly stuffed face, her buttoned hands, bare feet, as well as the beaded embellishments to her head and the unique small ornament on her front. Give her a Japanese flair (top right image) by adding a wide obi to the slimmer "kimono" version. She awaits your creative talents!
$10.00
---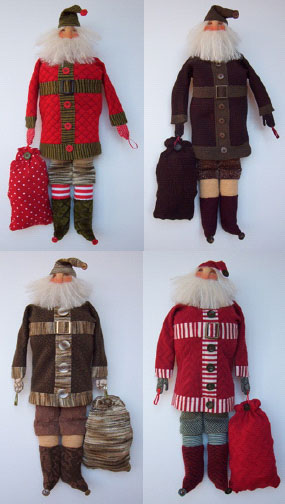 THE SANTA DOLL©
The 18 " tall poseable doll can be hung or seated. He's made out of all knit fabric with a needle-sculpted face out of pantyhose covered upholstery foam with a soft body and clothing. So soft you'll want to cuddle him!
$12.00
---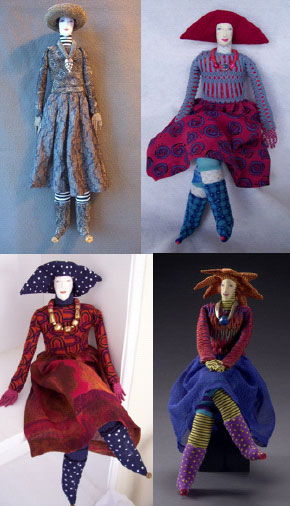 THE GLAMOUR GIRL©
An 18 " tall doll whose look can be understated elegance or outrageously flaunted loveliness. You'll learn how to needle-sculpt a 2-piece face and sew gloves/hands with all 5 fingers. She can be hung on the wall or seated in demure glamour. Her body is knit fabric to give her a soft roundness. Her top can be either knit or woven. Her skirt is best, though, as woven fabric — such as a rayon with good drape, a floaty silk or polyester; or consider a sheer skirt with her Capri pants /leotards showing below. And her hat and jewelry are your one-of-a-kind addition —some hats are big and floppy, some small as a cloche.
$12.00
---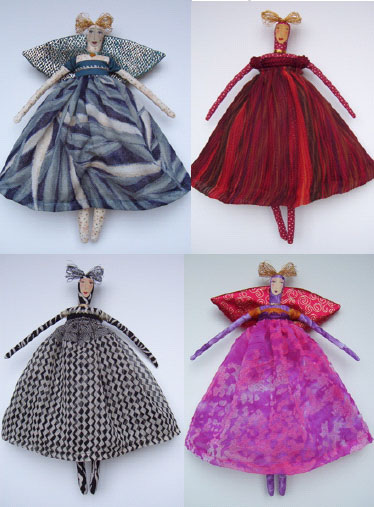 Big Skirt Lady© and Big Skirt Angel©
This lovely 12 " tall feminine lady will delight you as she hangs on the wall. With her BIG SKIRT she can be a LADY or, with lush wings, an ANGEL —those ordinary people being extraordinary beings! Using combinations of fabric, ribbon, braid, novelty thread and an UltraSuede face, she's easy to sew and assemble while learning how to draw and paint a face on fabric.
$10.00
---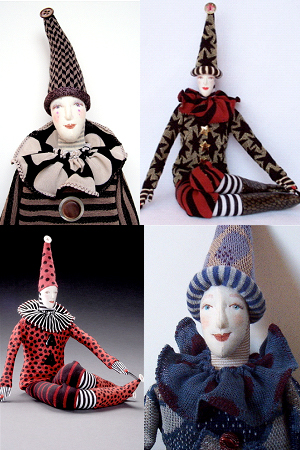 BUTTON JESTER
Pattern features an 18″ tall doll that can be hung on the wall or can sit, with poseable limbs—all from knit fabric. It's easy to assemble and learn how to needle-sculpt 3-D faces, too.
$10.00
---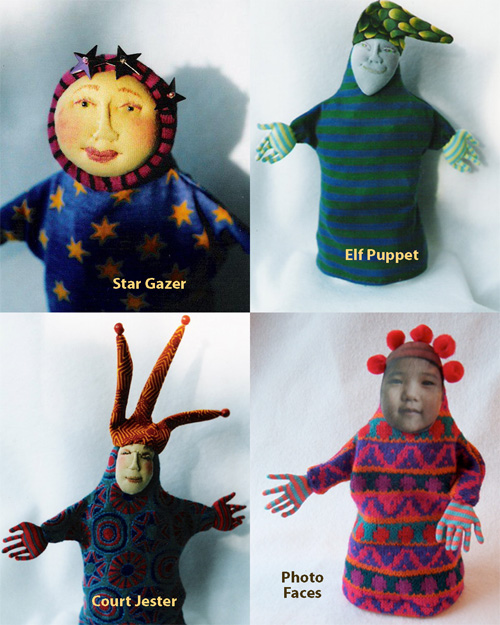 Hand Puppets & Finger Puppets
All possibilties for your imagination with hand and finger puppets to delight children of all ages. Hand puppets are 5″-7″ tall and finger puppets fit any size finger. Learn to needle-sculpt faces from flat fabric or transfer your favorite photos.
$10.00
---

COMING SOON:
Mermaids In Sweaters and Bustiers